This is where I'm currently loving to sit and relax. Well, ok, I've managed to sit and relax here precisely once, but it was lovely! I can see us spending a lot of time out here.
These couches were originally our inside couches, the cream in the living room and the blue in the family room, but neither really suited the house (and although still super comfortable, after 5 years of sticky fingers, the cream is now slightly more grey!). So, I'm slowly getting new living room furniture and these have found a new home where they will get a lot of use this summer!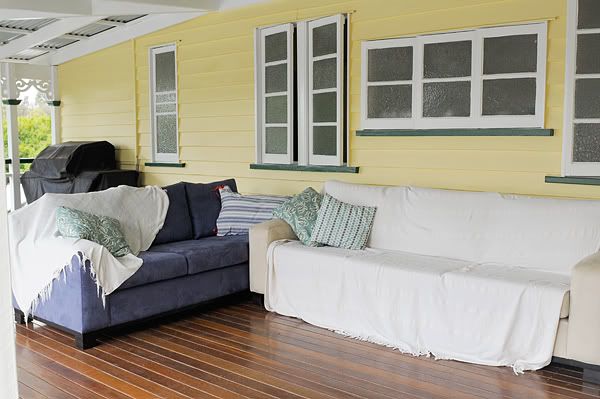 Husband put the cream throw on the couch, but I'll probably move it onto the blue couch instead, and make new cushion covers. I have these two fabrics from Joel Dewberry's Ginseng collection which I'm thinking of using, but I can't decide whether just to use one, or both of them? Thoughts?
If you have stopped by, it would be lovely if you could leave a comment or just say hello so I know that you've been here. Thank you!