I'm a little bit afraid of adding patterns and colour. Anything more than some subtle stripes strikes fear into my colour coordinated heart! I'm sure I'm not the only one? Does anyone else suffer from colour/pattern-phobia, or are you all lovers of the bright and varied?
However, I do think I need to be brave and add
something
of interest to this very safe room! To the left of the couch is our front door, so this is the entry to our home and the first area you encounter.
Excusing the nasty flash photography, this is the new couch and cushions. It's in the main living area. I picked the duck egg/eau de nil shade Laura Ashley cushions, and made a bold move with the teal. These are Rapee, and they call the colour Mallard, how perfect is that?!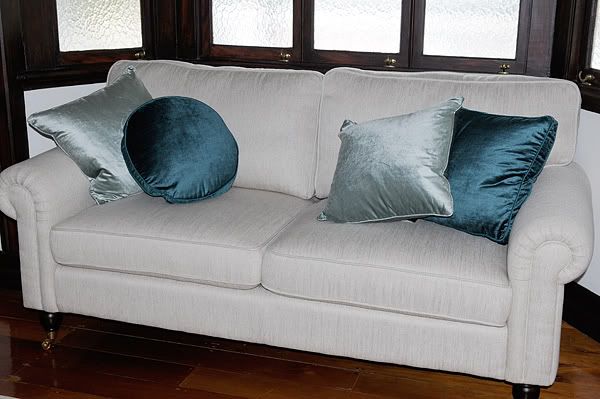 I added this rug, again, Laura Ashley, so it ties in with the couch and cushions, possibly too much. It also has some warm gold tones within the paisley like swirls. (These photos make me realise that it needs to be ironed or steamed to get that big crease out of the centre.)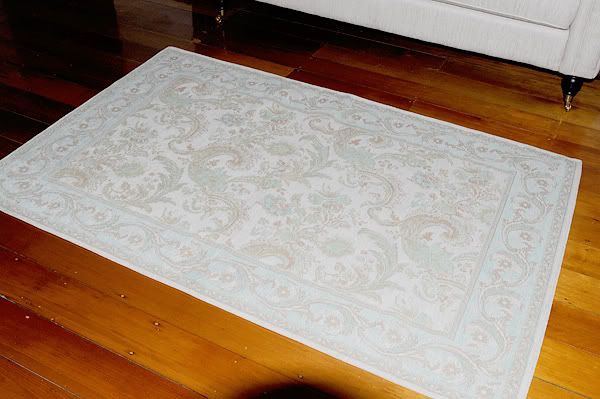 This velvet chair is another one of my auction purchases. It's rather sweet and ladylike, and matches the cushions almost perfectly. The lamp in the background needs some TLC as well, definitely a new shade and quite possibly rewiring.
This is a really bad photo of this section of the room it it's entirety. Nothing on the walls, no curtains...nothing. Simply because I have NO idea what to put there. So, this is where I'm looking for inspiration, and suggestions from my readers.
I am tempted to paint these window frames white as we have a lot of dark wood trim in this room. A LOT of dark wood. With the wrap around verandah it makes the room quite dark.
I am also on the lookout for another chair or small couch to complete the seating, however I have no idea what I'm after. Possibly a wingchair, or two.
Do I need a coffee table? In that corner to the right is a little mahogany "nest" of tables and I'm not sure if that is quite enough or if it looks a bit bare without a central table.
So many questions, so much to do!
If you have stopped by, it would be lovely if you could leave a comment or just say hello so I know that you've been here. Thank you!