We are heading off on our New York adventure in a few weeks. I've been putting together a "shopping list" to cover all my birthdays, mother's day and Christmases for the next year or so!
First on the list is to head to Tiffany & Co on 5th Avenue, I shall of course wear black and stand by the window eating my croissant and coffee. Although possibly not in a Givenchy evening gown and tiara.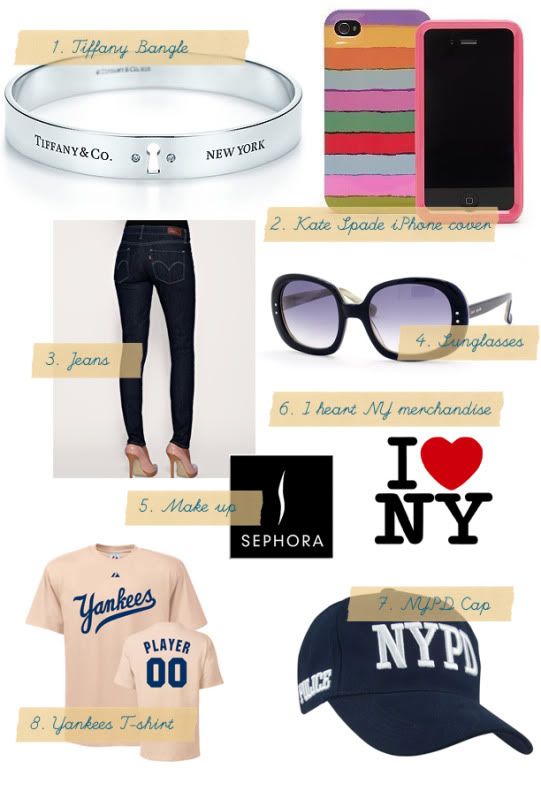 I've been eyeing off the Tiffany Locks Bangle for a while now. Apparently Miss TikiBoo wants one too, but I don't think that will be happening!
I'm also keen to get a new cover for my iPhone, as the current one has been broken for a while and I haven't quite got around to looking for a replacement. Kate Spade seem to have some fun and colourful cases.
Jeans - apparently always cheaper in the USA!
Sunglasses - another on the "starting to break and need replacement list".
Miss TikiBoo is requesting I <3 NY merchandise. In particular underwear. Those who have seen "The Smurfs" movie will understand.
Sephora! And a Sephora where the staff will speak English! Heaven.
NYPD and
Yankees merchandise - I'm thinking this is what the family will be getting for Christmas!
Is there anything I've missed? What would you want to buy in New York?
This post inspired by
Blogging Your Way
!