Tomorrow is our school fete. One of my favourite contributions is always Freckles as they are so easy and require minimal cooking, and can be made well in advance. Miss TikiBoo LOVES them, and because they're small I don't mind letting her have the occasional one - she tends to go a bit crazy when she has sugar.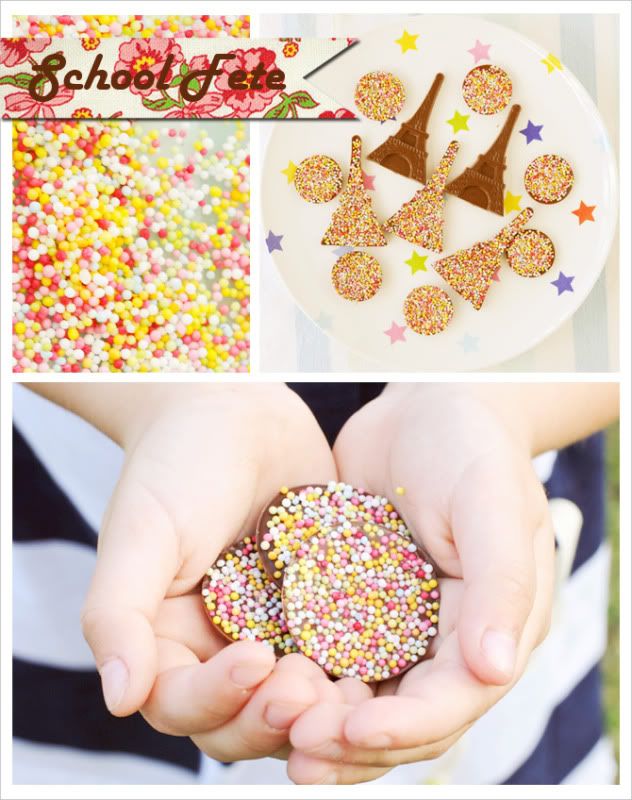 INSTRUCTIONS
I'm not particularly exact when it comes to measuring for these.
- Choc Melts
- Copha
- Hundreds & Thousands (I like the natural coloured ones)
Melt about a cup of choc melts with a bit of copha. Around a teaspoon or so.
You can use regular chocolate, but it tends to melt faster. I like to do a combination of dark and milk.
Pour into moulds. I have Eiffel Tower chocolate moulds left over from Miss TikiBoo's
Parisian birthday party
, so I used those for some, then for the round freckles I use mini muffin tins and fill around 5mm deep.
Sprinkle Hundreds and Thousands on and put in the fridge to set.
Too easy!
What's your school fete standby? Do you make cupcakes galore, or are you more of a jams & pickles person?
If you have stopped by, it would be lovely if you could leave a comment or just say hello so I know that you've been here. Thank you!