I have the morning "off" today. There is a Father's Day "fun day" at school, so Daddy gets to take Miss TikiBoo to school and spend the morning there. I'm not sure what is involved, there is talk of singing and dancing and possibly a "pick your portrait" competition.
Now, this post has been prewritten and scheduled, as I am taking advantage of the no school drop off to sleep in! I think I deserve it after the events of yesterday - up early to get hair braided, then a really busy morning having coffee with the school mummies (after a couple of us made a quick trip to Aldi to get raised vege gardens, love an Aldi catalogue sale) and back to school all afternoon for the Book Week parade. All lovely, however a little exhausting. We got home late after doing a few chores, to find the cat had not only thrown up on the laundry tiles (easy enough to clean up), but had decided to throw up all over my bed as well. Fabulous, washing doona and doona cover at 5pm. Thank goodness the weather has warmed up enough that a couple of cotton blankets will suffice! So, the cupcakes I had planned for the Father's Day morning tea will be replaced by the packet of hundreds and thousands biscuits I grabbed while waiting at the Aldi checkout!
This is my gorgeous girl all dressed for the parade, her favourite book character, Madeline. For that matter, she's probably my favourite children's book character too! Probably because her personality is so similar to that of Miss TikiBoo.
I made the costume, and the hat was given to us by a friend. It was a rushed spraypaint job, and although it's a little too small, it's still pretty cute. She was so proud today. Love this crazy girl to bits xxx.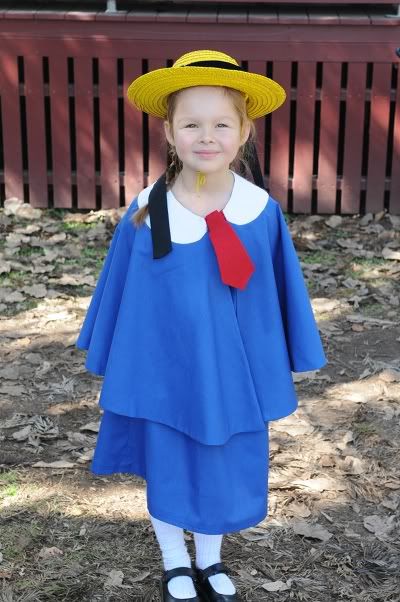 What do you do with unexpected time off your day to day routine? Do you sleep it away, or spend it wisely?