You're all aware of the lack of posts recently, but I'm getting back into it, slowly.
I'm still blaming that lack-of-photoshop-on-the-macbook issue, because it couldn't be general slackness, could it?! Therefore, I'm aiming to post at least one little update a week, a general this-is-what-I've-been-doing type of meme.
If you want to join in, leave a link to your post in a comment so I can visit.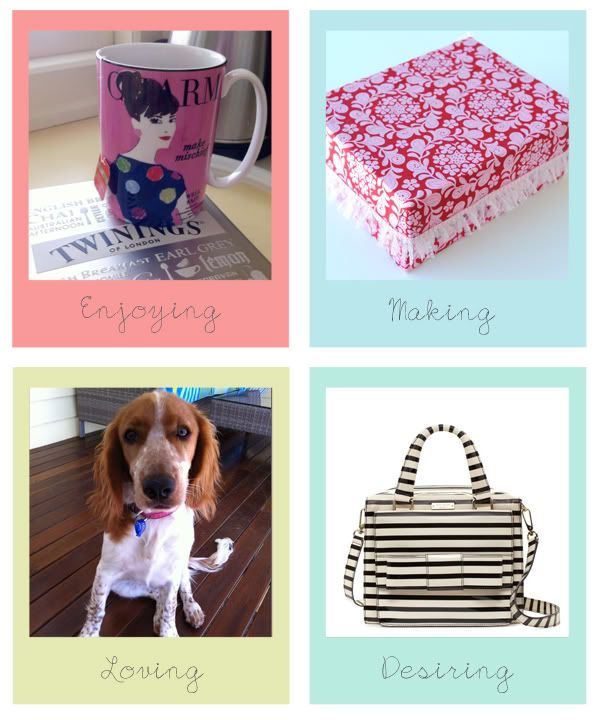 Enjoying
Twinnings recently released their limited edition
Australian Afternoon Tea
, a blend created by Kevin Rudd. It's a good strong tea, just the way I like it. PLUS, 10c from every pack sold goes to the RSPCA. I'm also loving the tins which perfectly fit a 100 teabag pack. Tea always tastes better in a pretty mug, I love my Kate Spade number!
Making
I have actually been fairly crafty over the past couple of weeks. We had our school disco last week and costumes were required, but that requires a whole post - maybe even a tutorial.
I've also started covering a few boxes to use as extra storage. Miss TikiBoo seems to accumulate the most astonishing amount of "stuff", and while I do got through and cull every couple of months, she gets rather upset when I throw things away.
One thing she always wants to keep is her shoeboxes, which she then fills with her "stuff". Rather than have a pile of unattractive boxes, I decided to jazz them up a bit. If you want to try this at home, here's a tip. Wait until you can go outside and use spray adhesive. I used a hot glue gun and it left some patches a little lumpy where it tried before I could press the fabric down. This box used about 5 sticks of glue, so take my advice and go the spray!
Loving
My sweet little freckled pup. She's not so little anymore, and she's terribly naughty! However, she is ever so loving and super-smoochy. I'm not sure how much bigger she will get, but her coat will grow longer, especially her tail, the bag of her legs, her chest and on her belly.
Desiring
Kate Spade's latest. Loving the stripe plus bow. Swoon!
Playing
I needed to take some photos for a friend, so the camera was set up on the tripod. Miss TikiBoo and I took turns at taking silly photos of each other.
Perhaps I need to teach her about focusing. Or not. Let's just say she is a little more photogenic than I am!